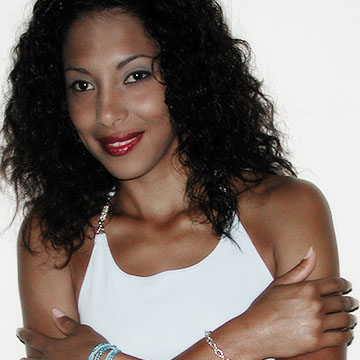 I always hated it when I had to answer these sorts of questions for magazines, and now here I am doing it to myself. Basically I just think I'm too young to even think about a biography, but since I have promised to try and open up on this new version of the site, I suppose I'll have to try. I guess you can actually learn a little something about me here. …
You could find all the "basics" about me all over the web, so we're trying for a bit more of the personal approach here. I've been part of the Risque Business family for over ten years now, and I've learned a lot about opening up. (That's not what I mean, and don't be dirty.)
OK. So … Anyway …
I started my career in the adult business in 1997 when I had just turned 19 years old. It probably comes as no surprise, but I remember my first movie very well. My first guy on screen was T.T. Boy, and the scene also gave me my first girl, a young lady by the name of Cappuccino. I'm not one of those women that got into adult just to have sex with other women, so that scene was a bit of a shock to me. Spend enough time in this industry, though, and your sexuality will take some radical rides.
At that time let's just say I hadn't quite discovered how much I would end up being very into women. … Um …
Oh, crap. I can't do this. …
The Dee Biography — Continued With Assistance
by Dee and D.Minion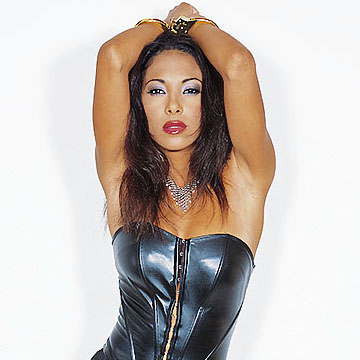 Dee was born a poor Hispanic child on the island of Puerto Rico — her earliest memories being of lying on the beach, enjoying the beautiful weather.
The child of a single mother, the small family relocated often, moving to New York City when Dee was five. In kindergarten Dee found herself the only Spanish-speaking child in her class. Needless to say, she mastered English very quickly!
Were feeling like an outcast in a huge city not challenging enough, Dee got shipped to Alabama to live with family in grade school. As you might imagine, dark-skinned, curly-haired Dee stuck out more than a little in the Deep South.
Dee spent a year in Virginia — the home of D.Minion — where sadly the two did not yet meet (but SHOULD have, certainly)! Eventually Dee's core family set off again on their own, this time setting sights on sunshine state, California! Dark skin and Spanish accents do not exactly stick out in Southern California, but Dee had yet to capture much of a sense of "home" or belonging in her life.
Certainly more traveled, and likely more worldly that most young women her age, Dee began her fabulous life in the porn business at 19 years of age. Her first scene was on May 1, 1997, a date she remembers clearly. Having sex with strangers for money began (as you have heard) with TT Boy in Black Street Hooker #7, an experience that also admitted Dee to the world of female bisexuality. Admittedly very nervous, Dee nonetheless found herself strangely attracted to having strangers watching her reveal her most intimate behaviors.
Read Even More About Dee?
Dee's first chance at a pure lesbian (girl/girl) scene came with Crystal Knight in Sista #7. (The number "7" plays a big role in Dee's life as you can see.) At this point Dee had still not really been with a girl in her personal life, although she remembers feeling anxious simply because she "didn't want to disappoint Crystal." To understate the obvious for anyone that knows of her career, we may note that Dee quickly took to the Sapphic lifestyle. "You've licked pussy before. I can tell," Crystal said at the end of the scene.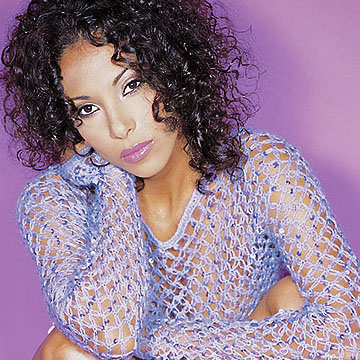 Dee giggled and confessed, "You're my first!"
Dee's first major magazine spread appeared in the aptly-titled Pictorial. Her first cover to hit the streets ended up being for Hustler, interesting perhaps because that magazine has featured Dee on its cover more than any other single publication, having received the honor "three or four times." (The humility that comes with not being able to remember how many major magazine covers you have graced typifies Dee's charm and point of view.) For those keeping track, Dee has also graced the pages of Club, Black Tail, Sista, High Society and a "bunch" of others. Not surprisingly, Dee has also been on the cover of AVN (Adult Video News) Magazine several times.
As time, and shoots, and convention after convention rolled on, Dee lists meeting Juli Ashton on Playboy TV's Night Calls as the biggest turning point in her professional life. They struck up a strong friendship, Dee eventually relying on Juli's experience and guidance accepting a role that included performing a DP scene in Ashton View's Screen Play. The scene called for Dee to wear a strap-on (which she'd never done), and to do Juli in the butt (also which she'd never done). Ever the patient mentor, Juli expertly coached her young student through exactly what to do! (The scene, by the way, reigns as an all-time classic for reasons, not the least of which, include Dee's wardrobe: Latex paint!)
Screen Play led to Dee's favorite starring vehicle, Essentially Dee, also produced by Ashton View. As the title would indicate, Essentially Dee delves into the very private life of this Adult star, shooting closely with the Risqué Business team over the course of an entire year. Dee calls it a "life changing experience," and says she learned a lot about herself while making this movie. Fortunately for all of us, a great deal of that evolution actually made it to the screen.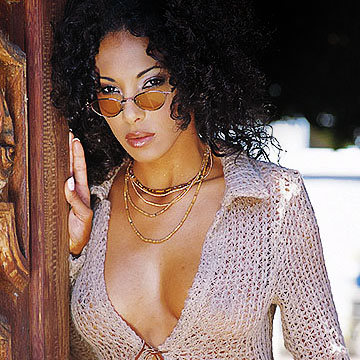 Dee later had a leading role in Passion's Cove, a 26-show series that Playboy made for HBO. And Night Calls hired Dee to be one of their "Call Girls" — girls who fielded phone calls, and kept the callers on hold and interested until Juli and Tiffany could talk to them.
Dee also starred on 22 episodes of Naked Hollywood, a porn homage to Sex In The City. She recounts it as a "wonderful experience" saying it honed her acting ability, and she loved working with the great crew and the magnificent talent on the show.
Her first producing/directing gig came with Wicked Pictures' French Kiss, an opportunity she embraced because it provided "an outlet for her creativity" (not because she got to go shoot in Paris, France or anything). In the course of making this one little show, Dee discovered that she wanted to work behind the camera as well as in front of it. She could see a career in the industry that she had not considered before.
New motivation solidly pushing her, Dee hooked up a producing gig with Video Team. As half of "DeeVa" productions, Dee had lots of creative control over her endeavors, even though partnerships with loved ones can be "a bit of a pain sometimes, horrible others" according to her recollections. Of that time period, Dee recalls she enjoyed putting projects together and "the power of it all!"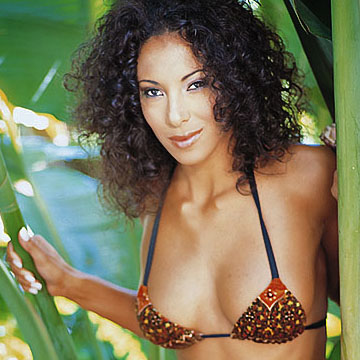 After years of being a "redheaded stepchild", Dee signed with a Risqué Business management company in 2003. Dee quickly landed a job on KSEX Radio as one third of Dee and The Fat Men. This morphed into several different shows with several different partners over the next few years, but the constant that kept fans tuning in continued to be the lovely Dee!
During this time, Dee also co-hosted a weekly show with Mr. Marcus on cable TV outlet Spice Live's Spice Hotel. Spice Hotel was the first show ever to showcase live hardcore sex — on television — interspersed with talk and clips!
After an on-camera career that recorded a wildly successful string of industry "firsts," Dee finally set her sights on her personal life. With an early youth that carried her across the country, but never into a true home, Dee had finally surrounded herself with "family" in an industry still scorned by much of America, and the world. As a special relationship in that world blossomed, Dee made a very painful decision. She decided to leave the porn world, and just become "a regular person, as if that's possible." (Dee laughs.) Unlike the vast majority of former performers, Dee still maintains control of the direction of her own web site, and she keeps in touch with a lot of her friends from the Adult world. She looks back at her career with fondness, and when you ask her if she'll ever be back producing or directing, you get that little half-mouth grin that melts your heart. "You just never know," she says.
No, we do not. We DO, however, certainly look forward to continuing the ride with Dee.
Dee does NOT have a Facebook page or a Twitter account. If you run across any that claim to belong to her, they are a hoax. Dee DOES answer questions and chats with fans on her Message Board on her Web Site. She's also still really, really beautiful — both inside and out.